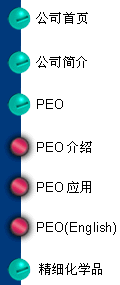 1、Features:
PEO is characterized by high viscosity,good water solubricity.Excellent dispersing effect can be achieved by only a small amount of PEO.Besides,it will not influence the functions of the other additives,therefore,high quality paper can be produced from ordinary raw material with this dispersing agent.The paper produced is thin and even with the same strength.PEO is a good additive,because it reduces the pulp wet weight)and increases speed and profits.
2、Specification:

CHEMICAL NAME
Poly ethylene oxide(PEO)
APPEARANCE
White powder
PROPERTY
Straight chain/non-ionic type
MOLECULAR WEIGHT
5.5 million
DENSITY
Apparent density 0.15-0.35kg/1
True density 1.15-1.25kg/1
MELTING POINT
66-70°C
THERMAL DECOMPOSITION
TEMPERATURE
423-425°C
SOLUTION PH
6.5-7.5

3、Packing:
1kg in a plastic bag,10kg in a carton.
Note:Keep out from moisture,heavy pressure,direct sunshine and high temperature while transportation and storage.
4、Applying steps:
(A)Dissolving method:
Put about 1/3 water(with the proportion of 250 g/1,000L)in the dissolving tank,and add the remaining water gradually during the stirring process.As shown in the figure 1,add slowly small quantity of PEO with the proportion of 250 g/1,000L,without curdling,and keep stirring for about 1.5 hours to let it disperse in the water.Stop stirring and keep the solution still for 30 minutes before use.

(1)Method of adding PEO:
1)As shown in figure 2,install a damper on top of the dissolving tank or flatten the front portion of the pipe to make the water radiate out .Then add small amount of PEO powder slowly in radiated flow of water.
2)PEO powder dispersers and dissolves in the flowing water.
3)Please be noted that adding a large quantity of PEO directly to the solution will produce the coagulum that is not easy to dissolve.
(2)Stir:
1)Stir till totally dissolved but not more;avoid over strring.
2)Please do not stir at high speed.The stirring linear velocity shall be controlled below 1m/sec(about 10-15rpm)
(B)The adjustment of the diluted solution:
The dissolving tank shall connect with a plastic pipe of more than an inch diameter.Then,add 10-15times of water to the previously prepared solution and make them flow through the screen (with 40-60mesh)to dilute.
Adjust the prepared solution and diluting water until the viscosity at the dissolving tank is 20-22 seconds (25 ml one-mark pipette type viscometer).
Set -up a Viscometer:

1)Use a stopwatch to decide A and B position on a 25ml mark pipette(shown as figure 3),water flowing time through A to B shall be 20 seconds.
2) Measure the flowing time of the diluted solution through A to B.
(C)The usage amount of PEO for various kinds of paper
Based on the degree of paper forming,flow the previously prepared diluted solution of PEO in the pulp tank at a speed of 50-100L/min.

The usage amount of PEO for different kinds of paper and the flow-in viscosity of the dilution through A to B.

Paper type
PEO usage amount(‰)
Flowds-in iscosity(sec.)

Tissue paper
Toilet paper
Coarse paper
Fibrous thin paper
Semi-pulp paper
Puli thin paper
Costed duplex board

0.08-0.20

0.05-0.10

0.05-0.08

0.20-0.30

0.05-0.08

0.05-0.20

0.01-0.08

21-22

20-21

20-21

21-23

20-21

20-21

20-21

Note:The above figures are varied with the different mesh structures,raw materials and quantities.
(D)Installation drawing:

Figure4

| | |
| --- | --- |
| 1.hopper | 7.level type type flow control tank |
| 2.damper | 8.strainer(40-60mesh) |
| 3.upper level agitator blade | 9.dilution tank |
| 4.lower level agitator blade | 10.head box |
| 5.dissolving tank | 11.spray |
| 6.float type level controller | 12.drain |

NOTE:Carbon steel materials aren't suitable for the equipments and the agitator blade.Stainless steel,plastic and rubber materials are recommended.
Tel:021-68680248,68681055
Fax:021-68681497
Zip:201209
Add:1259 Hua dong Road,Pudong New District
Shanghai,China

Poly Ethylene Oxide (PEO) is a non-ionic、high molecular weight polymer with good water solubility and heat formative. PEO is characterized with flocculent、thickening、sustained release、lubrication、dispersing、fiber and water retention, it can be applied to industries like medicine、fertilizer、pulps、ceramics、detergent、cosmetics、heat treatment、water treatment、fire fighting and oil exploration etc. It is non-toxic、non-irritant, and it will not generate residue、sediment and vaporous elements. Its application fields are widely expanded with the development of the new products and its excellent characteristics are gaining more attention from the numerous R&D organizations.